Welcome
..........to Shady Hill Rug Hooking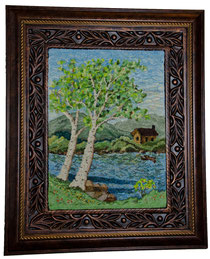 My website name describes where I live. On a hill, shaded by old oak trees, in a home with a beautiful porch where I can hook rugs.
The art of traditional rug hooking has been around for hundreds of years. Creating a hand hooked rug is still being done today as it was long ago, with the simple tool of a hook and strips of cloth.  Now it is considered an art form. Rug hooking has no limit for creativity and imagination.
I hope you enjoy looking at the hand-hooked rugs, hand-dyed wool, rug hooking patterns and appliqué patterns that are on the following pages.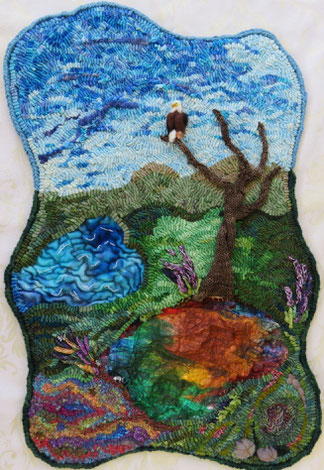 I attended North Central McGown Teachers Workshop in Newton Iowa last month.  My class focused on surface embellishments used along with rug hooking.  This is my original design.  The main background is hooked with #8 cut strips of my own hand-dyed wool.  Included in the surface embellishments are needle felting (eagle), knitting (tree), beading, appliqué with Texture Magic and Tyvek, embroidery stitches with ribbons and threads, hooking with silk fabric, roving, yarn and added some charms.  I also used a Lucet tool to create a square cording for a nice sharp finish on the edge. Students were busy all day with learning new techniques, using new fibers and materials, and creating their own design.  
First stop was was March Madness in April Hook-in, Franklin TN, by P is for Primitive.  I was privileged to hear first-hand Lisanne's' announcement about her purchase of Cushing rug hooking business!  Congratulations!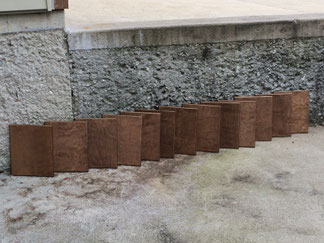 Next stop - a few days with my dad near St. Louis.  Of course we head for the wood working shop to make our lightweight collapsible footstools.  These are the tops all stained and top coated, drying outside the garage.
Footstools are finished and back in the store.  
I always stress good posture for any fiber artist.  Using a footstool helps to sit up straight and keeps back and shoulders comfortable.
At the Hook-in St. Louis I gave away gift bags to lucky winners!  Here are some of the winners!  Thanks for visiting my booth!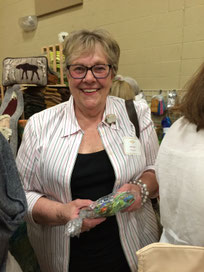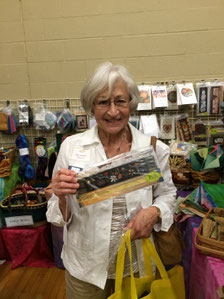 Another winner at Hook-in St. Louis!
1 Comments