Welcome
..........to Shady Hill Rug Hooking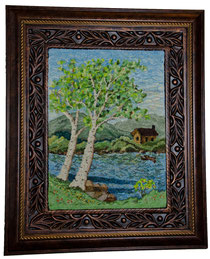 My website name describes where I live. On a hill, shaded by old oak trees, in a home with a beautiful porch where I can hook rugs.
The art of traditional rug hooking has been around for hundreds of years. Creating a hand hooked rug is still being done today as it was long ago, with the simple tool of a hook and strips of cloth.  Now it is considered an art form. Rug hooking has no limit for creativity and imagination.
I hope you enjoy looking at the hand-hooked rugs, hand-dyed wool, rug hooking patterns and appliqué patterns that are on the following pages.
Guests for the Greenway Fiber Arts Society will be arriving any minute bringing with them a project to work on for the day, a few items for show and tell, and great enthusiasm for the fiber arts.  We always have a wonderful variety ranging from rug hooking to wool appliqué, locker hooking to tatting, spinning and weaving.  Today I am going to attempt to knit a bowl.   I am sure at least one person in the group today will be able to help me with the double pointed needles.  
As usual on a hot Florida day we look forward to refreshing root beer floats after lunch.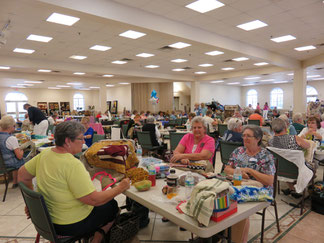 Here is a reminder of Spring Fiber Fling 2016.  Look at all our guests enjoying time with friends, working on their current project, and having fun shopping, learning great new techniques during the demonstrations, viewing the wonderful fiber and rug exhibit..... And, of course, waiting for the door prizes to be announced! 
Lunch this year will be catered by Hardwood Smokehouse in Ocala.  Award winning BBQ! 
To register click on the Spring Fiber Fling 2017 tab on the tool bar. 
0 Comments