Welcome
..........to Shady Hill Rug Hooking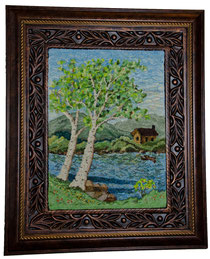 My website name describes where I live. On a hill, shaded by old oak trees, in a home with a beautiful porch where I can hook rugs.
The art of traditional rug hooking has been around for hundreds of years. Creating a hand hooked rug is still being done today as it was long ago, with the simple tool of a hook and strips of cloth.  Now it is considered an art form. Rug hooking has no limit for creativity and imagination.
I hope you enjoy looking at the hand-hooked rugs, hand-dyed wool, rug hooking patterns and appliqué patterns that are on the following pages.
I am excited to attend a workshop with Lisanne Miller who owns P is for Primitive!  Tomorrow!!  The workshop is at Prairie Road Designs in Wentzville Mo.  I will do my best to post some pictures of my project here, but really, I get so involved that I do forget to take pictures of the days activities.  After a few days in the wood shop this week making the footstools I am ready to get some hooking done with Lisanne.  

It's been a busy week in the wood shop for us with my dad.  He makes my footstools, yarn bowls, and covered magnets.  This week we have been making footstools for the fiber artists.  You can see the tops are cut, stained and a light finish on them, drying on the driveway.  We all need to perfect our posture so we don't end up with sore shoulders and backs as we enjoy our rug hooking.  Feet on the floor and straight backs.  Use a footstool!!!  These are great because they are lightweight and portable.  The legs fold back, and there is a handle !  It will fit right into your hooking supply bag and you will be comfortable where ever you are hooking!
I will have them available at the St Louis Hook-in Saturday April 23rd!  
1 Comments