Welcome
..........to Shady Hill Rug Hooking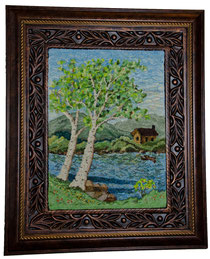 My website name describes where I live. On a hill, shaded by old oak trees, in a home with a beautiful porch where I can hook rugs.
The art of traditional rug hooking has been around for hundreds of years. Creating a hand hooked rug is still being done today as it was long ago, with the simple tool of a hook and strips of cloth.  Now it is considered an art form. Rug hooking has no limit for creativity and imagination.
I hope you enjoy looking at the hand-hooked rugs, hand-dyed wool, rug hooking patterns and appliqué patterns that are on the following pages.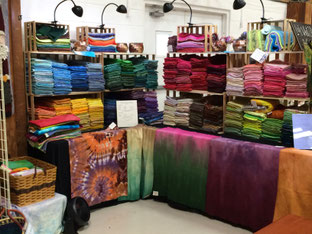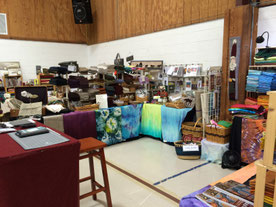 Another side of my booth with the wool appliqué supplies and lots of wool from Heavens to Betsy.  Washed and ready to use.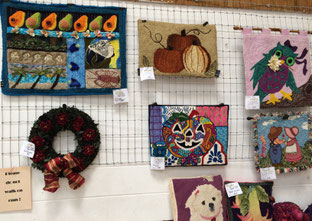 A partial view of my booth set up for the Strawberry Rug Hookers hook-in yesterday in Tampa.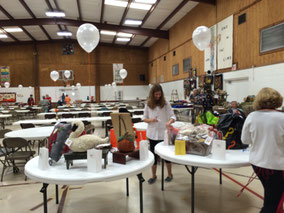 The room before the guests arrive, kind of quiet now, but not for long!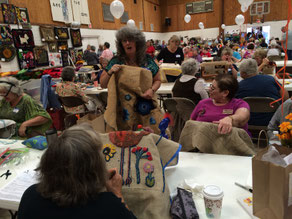 The room filled up fast once the doors were open..  Guests enjoyed the variety of demonstrations, shopping for all their supplies with the vendors, and viewing the rug exhibit which is always an inspiration to learn new techniques.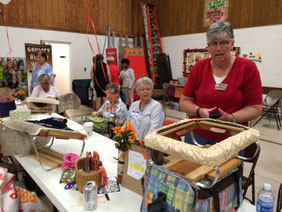 Spring Fiber Fling is only 4 months and 10 days away!  Registration is open and guests are signing up!
New this year -- we are having a fashion show.  Did you weave a shawl, knit a scarf, needle felt a hat?  Add rug hooking to a vest or jacket?  I think everyone will enjoy this addition to the event.  The fashion show will be an inspiration to other fiber enthusiasts!
1 Comments