My Story...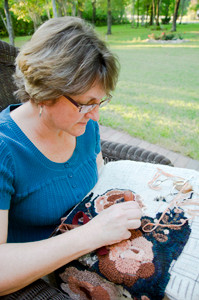 "When the kids are out of the house" I am going to hook rugs. That was my idea when I first saw rug hooking at art exhibits, craft shows and in antique stores. When we moved to Ocala Florida in 2005 the Community College was holding a "Hand Hooked Rug" exhibit in their art gallery. How lucky was I! Timing was right, location was right. My rug hooking adventure was about to begin!
I have had a lifelong adventure with all things fiber. I learned to sew from my mother. I learned to knit from my mother, and crochet, and quilt, and even paint a little. When I told her I wanted to hook rugs she said I was just a bit loopy.
I began rug hooking lessons in the spring of 2006 in Silver Springs Florida. In 2008 I began the certification process for an Accredited McGown Teacher for Traditional Rug Hooking and in October 2012 I completed my training. I am currently a member of and past president of the Ocala McGown Rug Hooking Guild #120.
I enjoy the time honored tradition of hooking rugs. The craft of making something necessary for the home from left over fabric and clothing has enjoyed a revival in recent years and now is considered an art form. I also still enjoy knitting, am learning to spin art yarn on a drop spindle, and I am learning how to weave.
You don't have to have an art background to learn how to hook rugs or even draw your own designs. Ideas come from everywhere. Just keep your eyes open, camera ready, sketch book at hand and find your imagination.
Karen