This is what is happening on Friday!
College of Central Florida
Klein Conference Center
3001 SW College Road
Ocala, Florida 34474
Spring Fiber Fling Mini-Classes
Mini-Classes 1:00 pm to 4:00 pm
V.I.P. Shopping for Registered students ONLY,  beginning at 12 pm on Friday!!
Class fee is $30 payable at registration
Material fee - paid to Teacher on day of Class
Maximum class size is 10 students
Registration will open on October 7, 2019 
Register here at Shady Hill Rug Hooking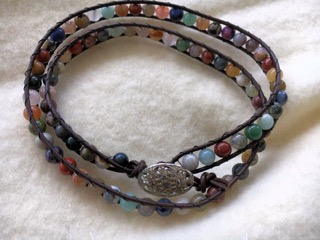 Double Wrap Leather Beaded Bracelet with Mona Robles
Learn how to weave beads onto leather cording to make a beautiful beaded bracelet.  We will be making a double wrap bracelet during our class time. 
Included in the class are the materials to make the bracelet- Leather cording, beautiful beads, thread and needle for weaving, button as the clasp, instructions on how to measure and make the bracelet.
All you need to bring is your scissors, open mind, creativity, good attitude and we will have a grand time.
Material fee is $12.00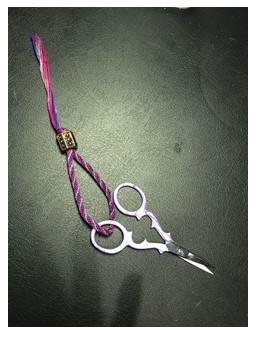 Kumihimo Scissor Fob with Jan Beasley
Using a foam Kumihimo disk, the student will create an original braid which will become a unique scissor fob.
The following items will be provided:  Foam Kumihimo disk and weight, colorful thread for the braid,  decorative bead for finishing the fob.
The student will need to provide the scissors for the fob.
Material fee is $6.00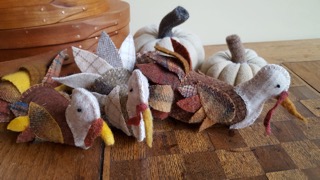 Stuff your Turkey with Sheila Arbogast
Learn 3-D wool appliqué technique while you make a stuffed turkey for fall decorating.
Material provided for the class include the pattern, wool, thread, needles, and stuffing.
Students to bring own scissors.
Material fee $10.00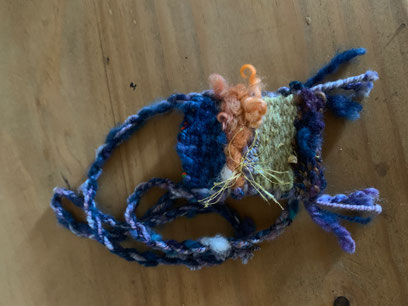 Elementary Weaving (Small Pouch) with Betty Ann Wyman
Come join Betty Ann to learn the basic elements of weaving and make a small pouch on a simple cardboard loom. It's a good introduction to weaving; or if you already know how to weave, a fun play time with a completed project to take home. The equipment needed and a wide variety of yarns will be provided. If you have a special yarn you want to use (the thicker the yarn, the faster your project will work up) please bring that and bring your own scissors.
Materials Fee: $5.00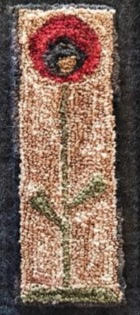 Learn the basics of needle punch with Trish Harriman
Learn the basics of Miniature Punchneedle, the anatomy of the punchneedle, the technique, how to transfer a pattern to fabric, the set up and use of the needle to create beautiful one of a kind pieces that can become heirlooms in years to come.
Material fee Includes paper pattern, fabric, hand dyed thread.
Materials provided for use during class: No – Slip Hoop, Punchneedle (available for purchase)
Supply list to bring to class: Sharp thread scissors, preferable curved embroidery needles. (available for purchase at class)
Material Fee: $15.00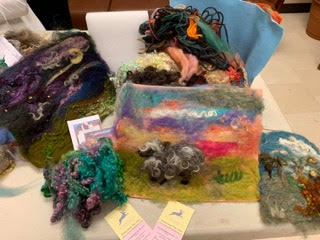 Learn how to create a needle felted creature with Martha Schaak
No previous skill required!

We will explore the world of wool painting by way of basic needle felting onto a pre-felt piece of fabric. There are many examples available to view, as well as intensive teaching and one on one explanation. Your own fabulous design is encouraged, as there is no expectation to follow the exact example provided. Needle felting is a fantastic fiber art medium that responds well to free form and free thinking. Unlock your creativity and have some fun with this no-pressure make and take workshop!
Material provided include a foam felting pad, 7 needle punch tool, wool, locks, prefelt.
Materials fee $15.00