Shady Hill Rug Hooking Blog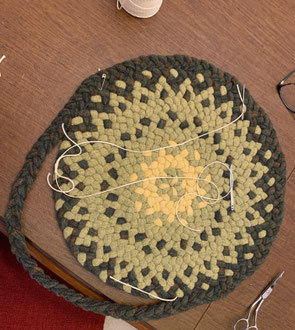 I started this a week ago as a gift for our daughter.  Polka dots and zigzags are the focus in this rug.  I am using darks and lights to have great contrast for the design to show up.  The pattern comes from Nancy Young, a well known braiding teacher in Maine.  This is her Killer Chair pad pattern.  I understand the "killer" now, as each row is individual, and therefore, butted.  9 rows here, 9 times to perfect the butting.  
This measure 18" in diameter now.  I would like it larger.  The decision to make is what color row next.  Yellow and light green?  all three?  I will braid some samples to help make up my mind.