History of
...............Shady Hill Rug Hooking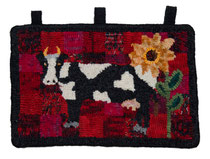 Here is my very first piece, a little cow and sunflower mat.
I began lessons with Patti Gaufillet at her studio in Silver Springs, Florida in 2006. I joined the McGown Rug Hooking Guild in Ocala and served as secretary/treasurer for two years, then president for a two year term. During my term we demonstrated rug hooking at several historic festivals to further educate the public and promote traditional rug hooking.
Attending workshops is wonderful way to get your creativity flowing. I have been fortunate to attend several rug hooking workshops to learn new techniques and styles of hooking.
With the encouragement and support of Patti I attended my first McGown Teachers Workshop in 2009 at the Southeastern McGown Teachers Workshop in Ashboro NC. I have enjoyed meeting all the other teachers and forming new friendships. Each year the workshop brought new and challenging assignments to complete for the following year.   I completed my training in 2012 at the Southeastern Teachers Workshop now held in Asheville, NC.  I am now an Accredited Pearl McGown Teacher in Traditional Rug Hooking.
Visit my gallery to see more of my rug hooking.
Karen