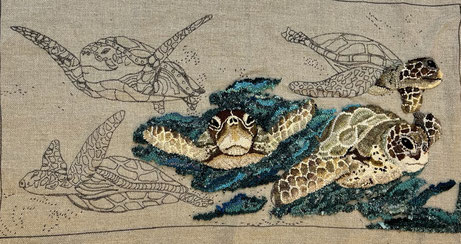 Time for an update.  My sea turtles are swimming right along!  The turtles are hooked using my leftover strips which I like to call noodles.  No new wool has been cut for the turtles.   Just look at those faces!!
The background is a variety of fibers including cotton batik, hand-spun yarn, hand-dyed velvet, wool roving, commercial yarn, mohair locks, sari ribbon, chiffon ribbon, and probably more that I don't remember right now.  Lots of texture in the water.  As I hook toward the top the values will become lighter and brighter.
I joked to a friend that the faces are perfect, and hooking more might create some mistakes, so I might just leave it as an unfinished perfect work of art.
That is the new excuse for a pile of unfinished projects,  perfection.