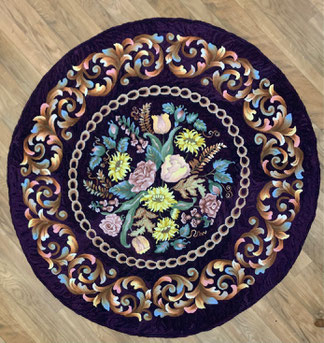 Finally, it is complete and with a nice label too!  I began this rug in 2017 with Sally Ballinger with the goal of learning her technique of fine shading flowers and scrolls.  Flowers used 8 value straight gradation swatches.  Scrolls used dip dye over 6 pastel wool strips.  
60" in diameter, #3 cut.
Gainesborough OSV #440 by Pearl McGown.
I purchased the pattern on burlap  at garage sale and transferred the design to linen.
I only wish I would have finished it sooner to show Sally.