The Weavers of Orlando Holiday Sale is only TWO weeks away!  
This is the place to be for your shopping this Christmas season.
December 2nd, 3rd, and 4th 2022
At the Donnelly Building in Donnelly Park in beautiful Mt. Dora Florida.  Every  artistic gift item is handmade - creatively, one of a kind.
I hope to see you there!
ANOTHER HUGE EVENT IN MARCH 2023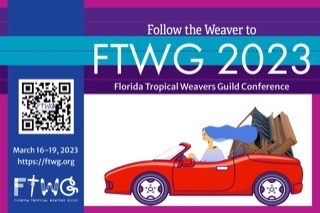 Florida Tropical Weavers Guild Annual conference will be live and in person  in March 2023!!
We will be at a new venue, the Wyndham Orlando Resort/conference Center in Celebration Florida.
Registration is open, check out the classes and schedule and come to join us!
I am honored to be teaching a rug hooking class at the conference.  All about hooking landscapes with mixed media!!  So many fabrics and fibers to explore during class, and some special techniques also.  I can't wait to be there in person!