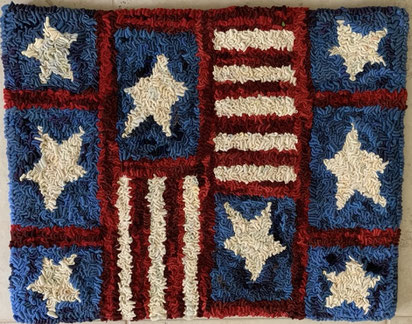 Americana and flags are popular all year round.  I won this pattern, by Debra Schrang, at a hook-in several years ago.  Using my own hand-dyed wool in  #10 cut strips on linen using a fat hartman hook, I got it done this week.  Pulling wide strips through the linen was hard on my hands even with the fat hook.  Plenty of hand stretches, and only hooking for short times helped.  
I made a covered cording to finish and sewed it on by hand.  Nice little rug, 24" x 18.5",  extremely soft and squishy!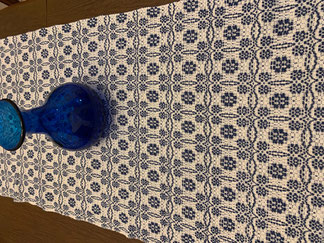 My first ever overshot on my Baby Wolf floor loom! 
I signed up for an online weaving class with Kelly Casanova weaving school.  8/2 natural cotton for the warp and tabby.   Navy 3/2 cotton for the pattern weft.  Slow but sure, checking and rechecking all the steps along the way.  Weaving was faster than warping the loom!  Unweaving is slower.  
It looks nice on the table with a Blenko hand-blown glass vase.  Finished size is 48" x 20".