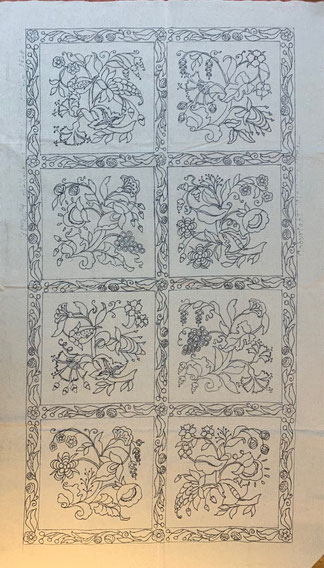 Time for a summer update.  It is no cooler here on the shady hill than anywhere else. 101 degrees early this afternoon. My dye kitchen is in the garage so no dyeing here until the temperatures take a dive. 
The Greenway Fiber Arts Society is meeting again although not at my home.  The sheriff station has a community  room available so we use it on the first Friday of each month. If you are in the Ocala Florida area and interested in  the fiber arts  send me an email and I will fill you in on all the details.
Update on Gainesboro:  Only one rose to hook, and one tulip to fix.  Then done.  Did I mention it is hot here?  Too hot to have the big rug in my lap, even with A/C and a fan.  It will wait until winter.
The rug pattern here is in my online store along with many other Pearl McGown OSV patterns on rug warp.  All are big, and beautiful and in  stock.