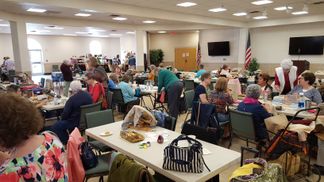 March began with the Spring Fiber Fling in Wildwood Florida!  We had a full house of rug hookers, spinners, weavers, knitters, wool appliqués!  And more!   
The photos below are from the Florida Tropical Weavers Annual Conference in Lake Yale Florida March 15 - 18.  Sunrises over the lake were exceptionally beautiful each morning.  The Greenway Fiber Art Society exhibited many quality examples of fiber art, weaving, rug hooking, braiding, knitting, swedish weaving, wool appliqué.  I was honored to be chosen as a teacher during the conference.  My class was all about decorative stitches in rug hooking.  My vendor booth was packed with rug hooking and appliqué supplies.  My helper Mona added felting supplies, felted soaps, beaded jewelry, and wool appliqué kits.
We traveled to Montgomery Bell State Park in Dickson TN for the March Madness Hooking Retreat organized by Lisanne Miller.  Two whole days this year to renew friendships and be reenergized!!  The park facilities are comfortable and convenient.