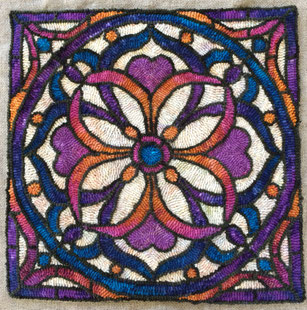 To Everyone who placed orders during the hurricane!  Thank you for your patience while we were cleaning up from Hurricane Irma!  We still have several trees to be removed (hoping tomorrow!!). We are extremely thankful that none hit the house.  The studio is reorganized, all neat and tidy for a few days anyway, 
I finished this stained glass design during the hurricane.  I used my trusty Beam N Read Light,  hang it  around your neck light when the power goes out and you can accomplish anything!  This pattern is sold by Honey Bee Hive Rug Hooking, designed by Jane Flynn.  I believe I will frame it.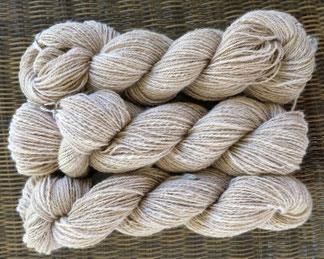 Spinning when the power is out is easy!  At least during the daylight hours. At night I was able to use a power block and a LED light from the studio. This is Alpaca fiber and I am going to use it as is.  I kind of like the soft color.  I am always told MORE TWIST!  So I did, and added more twist when plying.  It was such a twisty chaotic mess and not photo worthy, not happy at all.  However, the magic happened in the soaking.  Now I am delighted with it.  The fluffy yarn is wonderfully balanced.  Can't wait to get it on the loom!