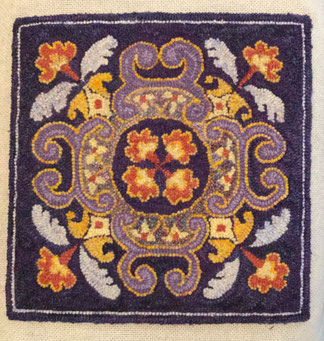 The hooking is done and ready to be made into a little tote bag.  The pattern is San Miguel, a 12" x 12" spanish tile design available from Honey Bee Hive Co.  Some of the wool is my own hand-dyed, some I purchased from another teacher, and I used Noro Silk Garden yarn also.  The yarn gives the inner border a little more texture and sparks of color.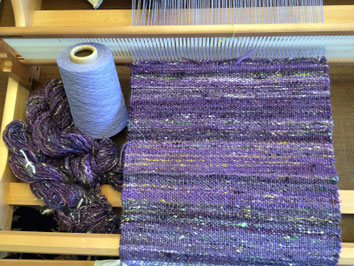 The back of the bag will be this fabric woven on my rigid heddle loom.  The warp is 8/2 unmercerized cotton.  The weft is my own hand-spun art yarn.  Wool, silk and some other fiber.  I played it with a shiny metallic embroidery thread for more sparkle.  The fabric will shrink a little when I wash it and that will give it more texture, and hopefully be the right size for the bag. 
The hooked piece and woven fabric look pretty together.  
Now for a trip to the local yarn shop for the wonderful handles.
I hope to have this completed in time for the fashion show at the Spring Fiber Fling in March.  Click on the Spring Fiber Fling tab for more information.