First stop was was March Madness in April Hook-in, Franklin TN, by P is for Primitive.  I was privileged to hear first-hand Lisanne's' announcement about her purchase of Cushing rug hooking business!  Congratulations!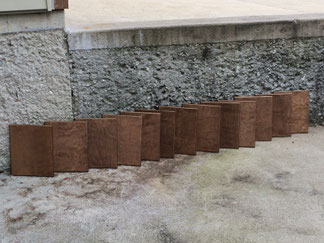 Next stop - a few days with my dad near St. Louis.  Of course we head for the wood working shop to make our lightweight collapsible footstools.  These are the tops all stained and top coated, drying outside the garage.
Footstools are finished and back in the store.  
I always stress good posture for any fiber artist.  Using a footstool helps to sit up straight and keeps back and shoulders comfortable.
At the Hook-in St. Louis I gave away gift bags to lucky winners!  Here are some of the winners!  Thanks for visiting my booth!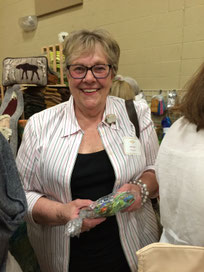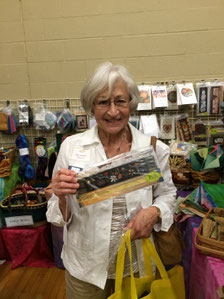 Another winner at Hook-in St. Louis!