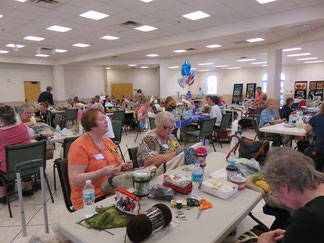 What a great turnout for the 2016 Spring Fiber Fling!  85 registered guests, plus vendors, plus volunteers, plus a few who walked in just to shop!  
Perfect weather, lots of parking, great lighting inside, room for all our stuff!  Thank you to all the vendors who came from as far away as Wisconsin, and Missouri!  
Door prizes were hand made by my co-chair, Mona Robles.  Vendors also were generous with patterns, tote bags, and wool for more door prizes.  Lunch was great, demonstrations were wonderfully educational.  
Food drive/stash builder was a hit.  179 non-perishable food items were donated along with $75 cash.  Thanks to everyone who participated.  The food drive benefits the Interfaith Emergency Services Food Pantry in Ocala Florida.