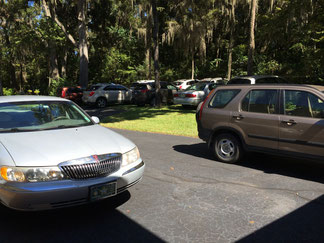 This is what my yard looks like when the Greenway Fiber Art Society meets at my home.  The weather was perfect for us to squeeze into my back porch for a day of rug hooking, wool appliqué, tatting, braiding, weaving, cross stitch, and more.  My spinning wheel was ready to use also if anyone wanted to learn!  
The Greenway Fiber Art Society is for anyone with an interest in wool fiber.  Rug hooking, spinning, weaving, wool appliqué, felting, and braiding, in addition to knitting, tatting, crochet.  So, here are pictures of some of the projects from Thursday. I did not get pictures of everything, but you can see what the group is working on.
For dessert we had apple pie bars with shortbread crust, and home-made salted caramel sauce. Yum.