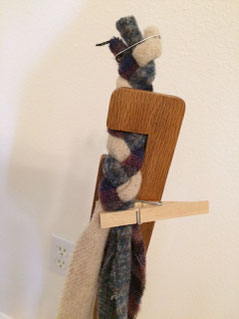 Ready to do some braiding with wool and make a basket?  My sister Betty was here for three busy days of rug hooking, braiding, and creating fiber fun.  Betty knew the basics of braiding.  She wanted to continue her education and learn how to butt the ends of a braid rather than tapering a braid to weave in the ends.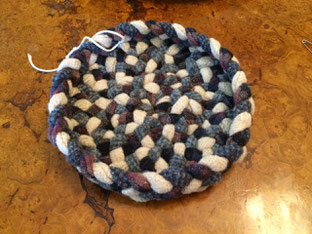 This is the bottom of the basket.  Four rounds on the bottom, one layer starting to go up the side.  Five perfectly butted braids!  Only a couple more to go then she can be done.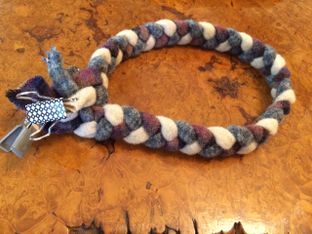 The braid is started in the first picture.  Nice tall secure stand to hold the braid for even consistent tension.  Next photo is an example of the braid ready to butt.  The ends are pinned together in the correct sequence.  Kind of messy looking and might discourage first timers, however, Betty hung in there and made it work perfectly.  It was either finish the join or go clean the kitchen!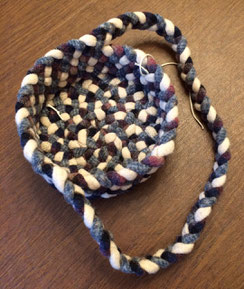 Two more rows.  The top row is extra long to include two little handles on each side. I do believe Betty got the hang of butting during our short time together.  
Braiding a basket row by  row is a great way to get a lot of practice.