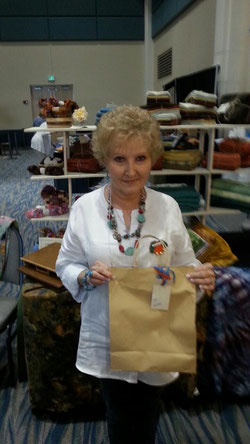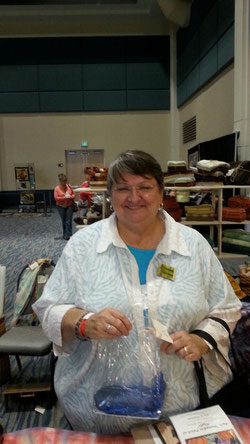 Two winners at our booth this year at the Searsport Harbor Hook-In earlier in the week.  This year I attached 10 winning tickets to my business cards for the tote bags which are given to each registered attendee.  
Our first winner is Geneva, and I know her from several events including the Merry Mountain Hook-in in  Asheville, NC and at the Citrus Belles hooking group in Mt. Dora Florida.
Our second winner is Barbara, from the Cocoa, FL area.  Barbara is a weaver in addition to a rug hooker!  I am delighted to meet her as I am a beginner, very novice, green as grass weaver and am ready to get together with a group of weavers!
Next year - open your tote bags and look for a winning ticket on my business card!!! Don't miss out.  Many of the other vendors and teachers put coupons and discounts in the tote bags.  Be sure to look for them next year right away after you get seated. Several times I have been to a quilt show and finally look at the show program when I got home to find that I have won a door prize - but too late, already home!