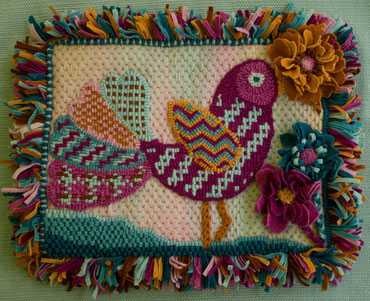 My class on decorative stitches in rug hooking is full!   Yeah, I am excited about that. A big THANKS to all my students.   We have a lot of information to cover in a short time so, students, be ready to work hard!  Wool is all cut into the right size strips, so we will be able to get right to work!
Count down to the Harbor Hook'in has begun.  More information about the event is listed under Events.

Three hand-made yarn bowls are ready to go!  Purple heart, Paduac, oak, maple, walnut, and more varieties of wood are used in piecing the bowls. One layer after another are added, then turned on a lathe, sanded and polished to a fine finish.  Perfect for all fiber artists.