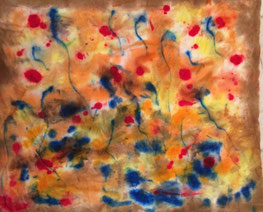 Dyeing for fun this week, no special orders, not for kits, just for fun.  

Mona and Martha came over and we painted wool, experimented with Shibori technique, dip dyed long pieces, and tie dye, which really should be rubber band dyeing, that's what we used to make the fabulous circles.   Experimented with roving also, let's make some colorful art yarn.
Using the crockpot again to rinse jars and measuring spoons resulted in soft shadowy values which are great additions to my stash.