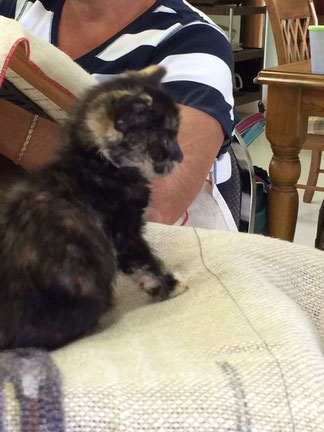 Meet Autumn Trinket.  Our official hook-in mascot is five weeks old, and ready to attend all the area hooking events.  Little Autumn inspected all our projects, from hooking rugs, to weaving a scarf, and even took an interest in a needle punch project of a snowman.  She was not at all interested in our delicious pumpkin cake and yummy cookies.  Look at those whiskers!  Autumn took a kitty nap while we shared ideas, told stories, and even pulled some loops.
Martha O. hosted the event and has the festivities all planned for December.  If you are in the Ocala area and looking for a hook-in contact me and I will share the details with you!
My skills at photography are limited, so please excused the misplaced focal point.  I could blame the kitty for moving, but the fault is mine.