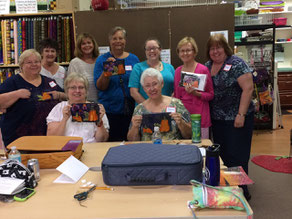 Enthusiastic students in my wool applique class made the day fly by.  I always learn from my students as they all come with a background in the fiber arts.  Whether it is quilting, knitting, weaving, or embroidery, they all are willing to share experiences and ideas with me.  A couple of the students had to leave early but I managed to get this group photo at the end.  I am very forgetful when it comes to taking pictures during class and I am sorry I can't share with you the beautiful hand made bags and purses and totes these ladies were carrying!
I asked them to post pictures of their finished wool applique projects, so keep checking back here for updates.
A big thank you to Happy Apple Quilts in Palm Harbor for hosting my trunk show and wool applique workshop!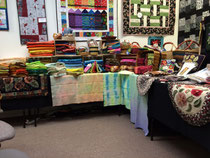 My trunk show set up at the Happy Apple Quilt Store.  Hand-dyed wool, applique kits, silk sari ribbon and much more!  Thank you to everyone who came out on Friday evening to see what WOOL is all about!