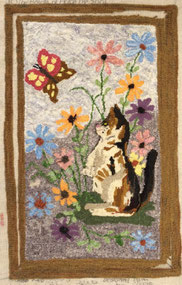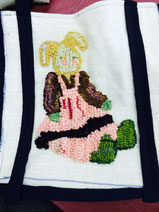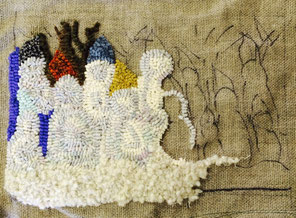 Pictures from a hook-in today in Ocala Florida hosted by Martha Oelschlegle.  Martha provided a large comfortable room at her community center with plenty of natural light, comfy chairs and a view of the pool.  Several of us were tempted to take a refreshing swim, but we had so much hooking to talk about.  Better to be inside an airconditioned center with fellow fiber artists than outside in 100 degrees sunshiny Florida!   Notice the two snowman rugs trying to cool us off also. Martha treated us to homemade pumpkin bread and brownies.  
Two cats, one rabbit, florals, snowmen, and laughing ladies, and scrappy circles.  A nice mix of rug hooking styles.
One talented and extremely busy lady also brought her machine embroidered bags, knitted felted purses, and some embroidered towels to show us.  
Thank you and be ready, we will all be back next month!