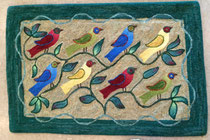 I attended the North Florida Rug Hooking Guild near St. Augustine over the weekend and here are the rugs on the exhibit floor.  I am sorry I do not have the names of the rug-hookers who hooked these, they deserve credit for their work.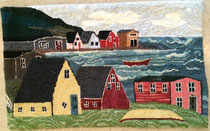 This looks like an ever popular Deanne Fitzpatrick design, beautifully hooked. 
As usual the creative talent in the hook-in was exceptional.  Rugs being developed is many different ways and using alternative fibers.  Lunch was delicious and I wish for the recipes. Catching up with friends is another highlight of the day.  I am always interested in what rug camps are attended and what teachers are at the camps.