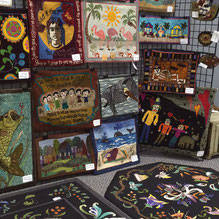 Look at these rugs!  A collection of hand-made treasures in the rug exhibit at the recent Searsport Harbor Hookin' in Punta Gorda Florida.  The well lit ballroom had a magnificent view of the Peace River, and the palm trees swaying in the breeze, and plenty of sunshine.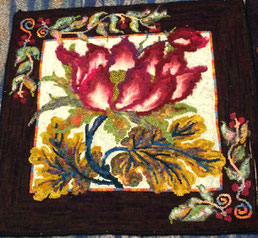 These rugs all speak for themselves, you don't need me to add description.  I do want to point out the winner of the exhibit, voted on by all attendees.  In the top photo, left side, "The Fish", hooked by Judy Sierota of The Villages, Florida.   Congratulations Judy!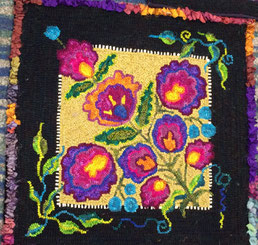 Thank you to everyone who visited my booth.  I enjoyed meeting you all and look forward to seeing you next year, or sooner.  A huge THANKS to Julie and Chris who worked so hard to make everything pleasant for the vendors, teachers, and hook-in participants. 
And a special thanks to my sister, Betty, who came from Arizona to help me in my booth.  Betty kept me organized, calm and well hydrated for the event.  Thanks Betty!