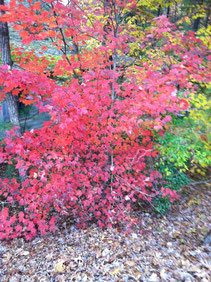 October in Asheville, NC.  I was in Asheville for one week, for three activities, and I took time out to take just one picture of the autumn colors.  Once in a while take a break, stop, look around, and enjoy the beauty.  My weekend began with spending time with my sister-in-law.  We enjoyed hiking on the well maintained trails along the Blue Ridge Highway, power shopped for early Christmas gifts, and enjoyed nice meals together.  My next adventure was the Southeastern Animal Fiber Fest.  Talk about fiber overload!  Every fiber in every vibrant color to use for an exciting new project.  My purchases included hand-dyed hand-spun yarns, hand painted rovings,  honey tussah silk (to ply with my icelandic wool for a silky warm  yarn), and a new heddle for my rigid heddle loom.
Of course there was one rug hooking vendor, fun to see what fibers and designs she was using in current designs.
You must go, next year, to see it all.  Go!
A five day rug hooking workshop for McGown Teachers followed the fiber fest.  Wonderful classes, inspiring teachers, creative tips and brilliant ideas.  For five days.  Just imagine! 
Amazing how the timing of the events allowed for me to make the most of my time in Asheville.  I am truely thankful.