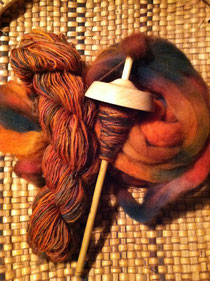 I find spinning with the drop spindle kind of addicting.  Just a little more, just five more minutes, then an hour, or two, later I very hesitantly put it away.  This beautiful wool top is hand-dyed by one of the ladies who works at the Earth Guild in Asheville NC.  I imagine it will make a pretty rustic table runner for autumn.  Weaving hand-spun yarn on my rigid heddle loom will be a new experience.
On my rug hooking frame is a Sivas Kilim pattern.  When I get some colors changed around I will share a picture with you.  It's kind of messy right now.   
Why do we always think of pumpkins and crows in the fall?  The stitching is almost complete on my new wool applique pincushion.  It has a crow which I made purple, just because I can.  The pumpkin is hand-dyed layered with a great textured wool and embellished with embroidery stitches.   Another rainy day today so I will be able to finish the little piece and get a picture to post.