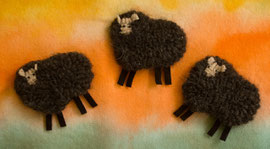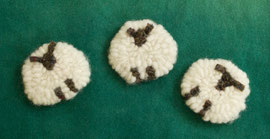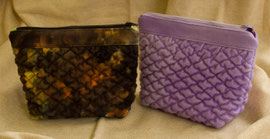 The three sheep pins in the top photo are hooked with Icelandic Sheep roving.   I bought the roving at the Ocala Sheep and Wool Festival in April.  The Icelandic Sheep are actually raised right here in sunny warm Florida.  I have a feeling they are sheared more than twice a year. 
The three white round pins are hooked with Romney  Sheep roving.  Not really sure where these sheep are raised.
Did you think I have taken the summer off?  I seem to always have a needle or a hook in my hands, and an idea ready to explore.
The puffy zippered pouches are lined with a bright colorful cotton.  These were fun to sew.  I think I have finally mastered the zipper!  At least for this very useful pouch.  I use one and it holds all my rug hooking supplies.  Several hooks, magnets, scissors, pens and pencils fit neatly inside.  It's colorful, it's puffy, and it is a one of a kind original creation.