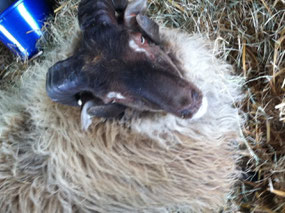 This friendly guy is an Icelandic Sheep, raised right here in Florida.  I snapped his photo while at the Florida Sheep and Wool Festival today.  My rug hooking demo fit right in with the spinners and weavers.  One giant fiber conversation. Creativity and imagination filled the air, drawing in the festival visitors who were learning about the animals and the final product of wool as yarn or fabric.
To learn more about Icelandic Sheep visit the farm website  caneybranch.com.
Of course I did purchase some Icelandic wool roving in luscious chocolate brown for spinning on my drop spindle.  The yarn will eventually end up in a hooked rug.
The roving from the Finnsheep, also known as the Finnish Landrace Breed is white and extremely soft.  It has a long staple and will blend easily with other fibers I have on hand. It was given to me by a lady from Daytona Beach, proving once again that fiber artists are friendly and exceptionally generous in sharing information and products.  Thanks Sharon!