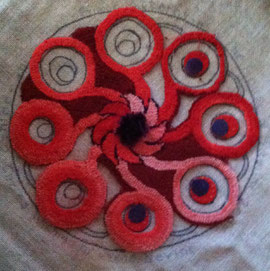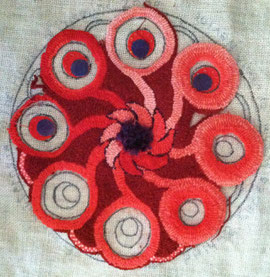 This Mandala pattern is "Circles Within".  I am using a red 8 value swatch for the circles and an a dark red texture for the background.  The center is hooked with a purple fuzzy yarn to add some dimension.  Outlining the center spiral is a purple and black variegated yarn to help separate the center from the exploding outer circles. 
The second photo shows some progress and I have added a sweet little decorative beading stitch arching between the larger circles.  A double row shows up well.  Using the 8 value swatch in order from light to dark keeps your eye moving around in circles. Wool applique in the center of the eight circles draws your eye from the center outward  A little surprising sparkle is added with the french knots stitched on the applique with a metallic variegated pearl cotton.
As you can see I have used several fibers, different decorative stitches, and applique along with rug hooking.  I will keep you posted on the progress and finishing of my Mandala.