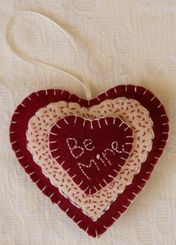 Wool applique can be applied to a great variety of items for the home and sewing studio.  It's almost February, time to decorate for Valentine Day.  This ornament even has a pocket for a bit of chocolate.
Who wouldn't want a pretty decorative and also useful pincushion to use by your sewing machine?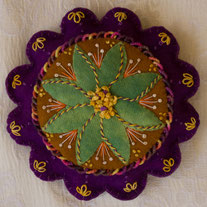 I will be at the Cabin Fever Quilt Show in Orlando tomorrow. These are just a couple of the wool applique kits I will have for sale at my display.
Hand-dyed wool is luxurious and incredibly easy to use.  You don't need to turn under the edges for applique.  Combine your love quilting and embroidery skills with hand-dyed wool to create a hand-made treasure.