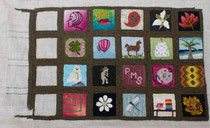 Friendship rugs are popular among the rug hooking community.  It is a sweet reminder of special friends.  A grid is drawn on a rug backing such as rug warp or linen.  Then the rug owner asks friends to hook a square.  Each square is then thoughtfully designed and creatively hooked by friends.  Janice was my wonderful mentor as I went through the McGown Traditional Rug Hooking Teachers training.  Janice was a student in my class - "Deco Reflections".  My square is a silhouette of an art deco period lady.   
Friendship rugs can also be hooked by a guild or group of rug hookers as a secret suprise for a special member.  Wouldn't that be fun?  I think keeping the secret would be the hard part!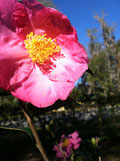 My camellia bushes are in full bloom and I wanted to share the vision of the magnificent bloom against the brilliant blue afternoon sky.