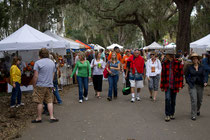 Saturday was perfect for the McIntosh 1890 Days Festival.  Pottery, wood bowls, crafts galore.  We pulled out our shopping list for Christmas and birthdays to get one of a kind gifts from several creative vendors.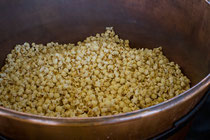 OK, sometimes it is about the food, fresh warm popped kettle corn at the Fine Arts Festival in Ocala Florida.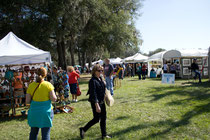 But that's not all!  Paintings, photography, mixed media and fiber art all in one park for more shopping extravaganza fun!  Another beautiful day in Ocala to finish off the Christmas list.  No, I can't post the pictures of what we bought because that will spoil the surprise for Christmas.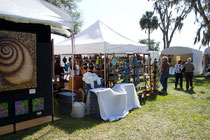 Fine Art Show in Ocala yesterday.  One afternoon is not enough time to look at every picture and painting, talk to every artist, try on every necklace and earring set!  OK, not every one, but .... almost.
Next weekend is the Country Roads Quilt Show in Ocala. Everything you need for your next project, especially hand-dyed wool for rug hooking, wool applique and penny rugs.  Hope to see you there!
Karen