Welcome
..........to Shady Hill Rug Hooking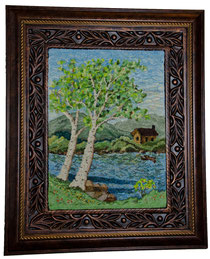 My website name describes where I live. On a hill, shaded by old oak trees, in a home with a beautiful porch where I can hook rugs.
The art of traditional rug hooking has been around for hundreds of years. Creating a hand hooked rug is still being done today as it was long ago, with the simple tool of a hook and strips of cloth.  Now it is considered an art form. Rug hooking has no limit for creativity and imagination.
I hope you enjoy looking at the hand-hooked rugs, hand-dyed wool, rug hooking patterns and appliqué patterns that are on the following pages.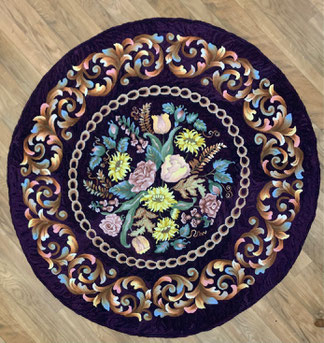 Finally, it is complete and with a nice label too!  I began this rug in 2017 with Sally Ballinger with the goal of learning her technique of fine shading flowers and scrolls.  Flowers used 8 value straight gradation swatches.  Scrolls used dip dye over 6 pastel wool strips.  
60" in diameter, #3 cut.
Gainesborough OSV #440 by Pearl McGown.
I purchased the pattern on burlap  at garage sale and transferred the design to linen.
I only wish I would have finished it sooner to show Sally.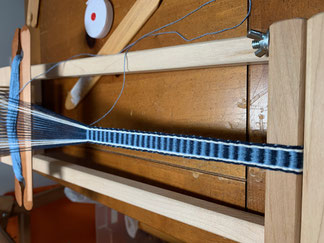 This is a little Beka rigid heddle loom, with a 4" reed.  It came to me with a broken back beam, and no reed.  Of course I had to fix it, and purchase the #10 dent 4" reed.
Then learn to use it, thanks to youtube videos.  I wove a hatband for the hat I wear to keep the blazing sun off my head.
Always good to try new tools and techniques.