Welcome
..........to Shady Hill Rug Hooking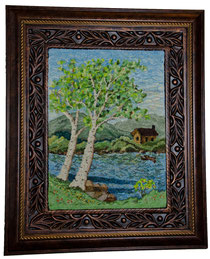 My website name describes where I live. On a hill, shaded by old oak trees, in a home with a beautiful porch where I can hook rugs.
The art of traditional rug hooking has been around for hundreds of years. Creating a hand hooked rug is still being done today as it was long ago, with the simple tool of a hook and strips of cloth.  Now it is considered an art form. Rug hooking has no limit for creativity and imagination.
I hope you enjoy looking at the hand-hooked rugs, hand-dyed wool, rug hooking patterns and appliqué patterns that are on the following pages.
Time for a Spring Fiber Fling POP QUIZ!  Watch for it  March 1st on my FaceBook page - Shady Hill Rug Hooking.  You must be a registered guest for the Spring Fiber Fling on March 11th to participate.  The first registered guest with the correct answer will win a small prize to be picked up at my booth during the event.  Answer as many questions as you would like, but you can only win one time. I will post one question each day starting March 1st.  Thanks and good luck. This will be easy.
Blue Eyed Nick is back in stock. We sold out of the pattern at the Searsport Hookin earlier this week.  We unpacked, reorganized, and got the linen out to make more patterns.  
It's only February, you will have 10 months to finish this pattern in time for Christmas!
1 Comments