Welcome
..........to Shady Hill Rug Hooking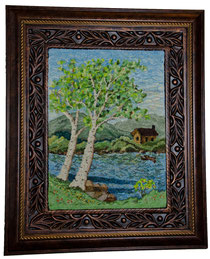 My website name describes where I live. On a hill, shaded by old oak trees, in a home with a beautiful porch where I can hook rugs.
The art of traditional rug hooking has been around for hundreds of years. Creating a hand hooked rug is still being done today as it was long ago, with the simple tool of a hook and strips of cloth.  Now it is considered an art form. Rug hooking has no limit for creativity and imagination.
I hope you enjoy looking at the hand-hooked rugs, hand-dyed wool, rug hooking patterns and appliqué patterns that are on the following pages.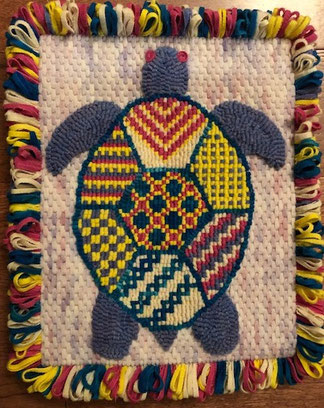 This is Oscar!  Anne Doucet from Titusville FL  hooked this charming sea turtle using several fun decorative stitches.  I had the pleasure of teaching the class in January in Titusville.  We focused our fiber fun on learning these stitches to add texture and interest to our rug hooking.  Thank you for inviting me to teach, and sharing the picture of your finished Oscar!
Florida Tropical Weavers Annual Conference is being held March 14 thru 17, 2019 at the Lake Yale Baptist Conference Center.  Check out all the information and class listings on their website.  FTWG.org     This year is the 75th Anniversary Celebration!  
I will be vending during the conference and teaching a mini-class on Thursday afternoon, a simple wool braided ornament.
FTWG.org