Welcome
..........to Shady Hill Rug Hooking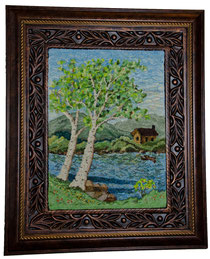 My website name describes where I live. On a hill, shaded by old oak trees, in a home with a beautiful porch where I can hook rugs.
The art of traditional rug hooking has been around for hundreds of years. Creating a hand hooked rug is still being done today as it was long ago, with the simple tool of a hook and strips of cloth.  Now it is considered an art form. Rug hooking has no limit for creativity and imagination.
I hope you enjoy looking at the hand-hooked rugs, hand-dyed wool, rug hooking patterns and appliqué patterns that are on the following pages.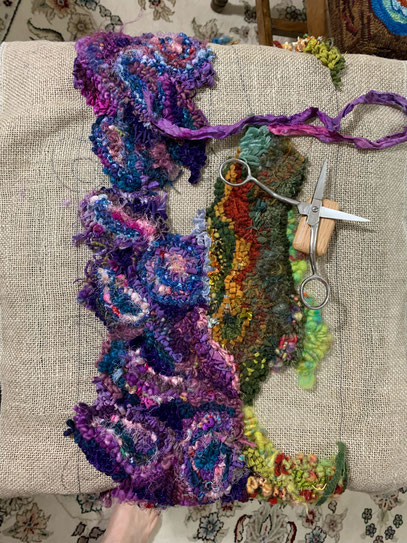 Save the date!  March 16 thru 19, 2023!!
My class proposal for using mixed media in rug hooking a small landscape has been accepted by Florida Tropical Weavers Guild and I will be teaching at the 2023 annual conference!!!
All the details are at FTWG.org.
The photo shows a sample of what can be hooked, other than wool.  Sari ribbon, silk, velvet, novelty yarns, hand-dyed rovings, curly locks, fabric, hand-spun art yarns, and more!!!  All these will be available during class for students to sample in their project.  So many possibilities!!!
New wool has been added to the Shady Hill Rug Hooking on-line store!  Check out all the colors of my hand-dyed wool.  You can tell I like to dye using the spot dye formulas!