Welcome
..........to Shady Hill Rug Hooking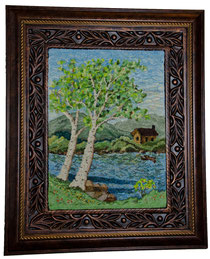 My website name describes where I live. On a hill, shaded by old oak trees, in a home with a beautiful porch where I can hook rugs.
The art of traditional rug hooking has been around for hundreds of years. Creating a hand hooked rug is still being done today as it was long ago, with the simple tool of a hook and strips of cloth.  Now it is considered an art form. Rug hooking has no limit for creativity and imagination.
I hope you enjoy looking at the hand-hooked rugs, hand-dyed wool, rug hooking patterns and appliqué patterns that are on the following pages.
Many thanks to everyone who came to the Spring Fiber Fling two weeks ago. We had a great turn out!  We all liked the new location for space to spread out, parking, lighting, and the patio outside for picnic lunch!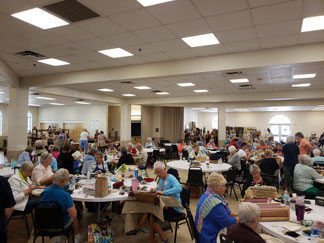 Pack your go bags everyone!  Remember to bring finished items for the fiber exhibit, a wearable fiber art for the fashion parade, a pet supply donation to the Humane Society of Marion County, a project to work on for the day, rug hooking, spinning (a spinning vortex will be in the middle of the room), weaving, knitting, kumihimo, any fiber art is welcome!  We will be at the Klein Conference Center at the College of Central Florida in Ocala Fl.   Pre-registration required at ShadyHillRugHooking.com.