Welcome
..........to Shady Hill Rug Hooking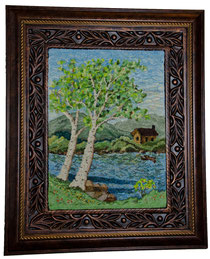 My website name describes where I live. On a hill, shaded by old oak trees, in a home with a beautiful porch where I can hook rugs.
The art of traditional rug hooking has been around for hundreds of years. Creating a hand hooked rug is still being done today as it was long ago, with the simple tool of a hook and strips of cloth.  Now it is considered an art form. Rug hooking has no limit for creativity and imagination.
I hope you enjoy looking at the hand-hooked rugs, hand-dyed wool, rug hooking patterns and appliqué patterns that are on the following pages.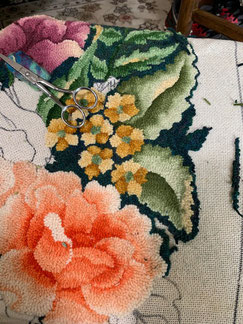 A little messy on the frame this week.  Steamy hot week with temps in the high 90's.  So it's hooking in the afternoons.  I can see some adjustments need to be made on the rose, one petal is a bit too dark.  I like hooking the background as I complete a design.  A row or two of background help to define the design, and confirms the background choice is a good one.  Plus, the rug is mostly done and only a little boring background to do at the end!
Plans are shaping up for the Spring Fiber Fling in March 2020.  Friday afternoon classes will be listed soon, just waiting for information from the teachers.  Check back soon!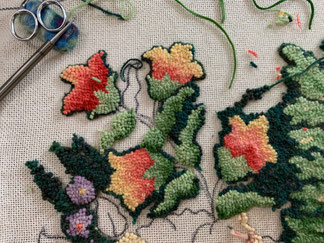 Sneak preview of my current rug hooking project.  I attended the Off the Ocean Rug Camp in Jacksonville FL in January and thoroughly enjoyed a class with Sybil Osicka.  After a busy spring I am getting back to it.  More pictures to come with progress. 
We are working on details for the 2020 Spring Fiber Fling too!