Welcome
..........to Shady Hill Rug Hooking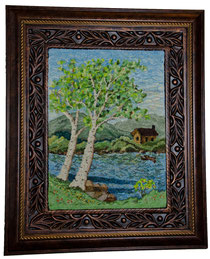 My website name describes where I live. On a hill, shaded by old oak trees, in a home with a beautiful porch where I can hook rugs.
The art of traditional rug hooking has been around for hundreds of years. Creating a hand hooked rug is still being done today as it was long ago, with the simple tool of a hook and strips of cloth.  Now it is considered an art form. Rug hooking has no limit for creativity and imagination.
I hope you enjoy looking at the hand-hooked rugs, hand-dyed wool, rug hooking patterns and appliqué patterns that are on the following pages.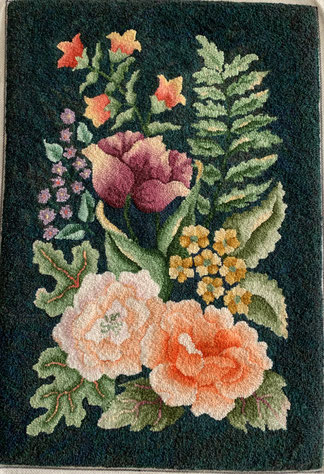 Yes, it's true!  I started and finished a rug in the same year!  I have a habit of starting many, many projects, way too many projects.  Then working on all of them, and soon they will be finished at the same time.  A couple weaving projects, knitting projects,  rug hooking projects ready to enjoy.  That means piles of stuff all over the place.
The big news is the Spring Fiber Fling registration will open on October 7th!  Details are in the Spring Fiber Fling section.  Check it out!
I wanted to display my hand-spun yarn on something other than a nail hammered into the wall.  So, my husband and I went to John Campbell Folk School in Brasstown NC to participate in the blacksmith class.  You can see tools of the trade in the photos.  The anvil, the forge, the tongs holding a hook.  There I am, as hot as the fire to bend iron.  Got it hot, hit it hard and ready to display my hand-spun yarn.