Welcome
..........to Shady Hill Rug Hooking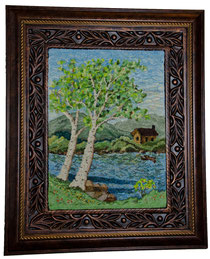 My website name describes where I live. On a hill, shaded by old oak trees, in a home with a beautiful porch where I can hook rugs.
The art of traditional rug hooking has been around for hundreds of years. Creating a hand hooked rug is still being done today as it was long ago, with the simple tool of a hook and strips of cloth.  Now it is considered an art form. Rug hooking has no limit for creativity and imagination.
I hope you enjoy looking at the hand-hooked rugs, hand-dyed wool, rug hooking patterns and appliqué patterns that are on the following pages.
The Weavers of Orlando Holiday Sale is only TWO weeks away!  
This is the place to be for your shopping this Christmas season.
December 2nd, 3rd, and 4th 2022
At the Donnelly Building in Donnelly Park in beautiful Mt. Dora Florida.  Every  artistic gift item is handmade - creatively, one of a kind.
I hope to see you there!
ANOTHER HUGE EVENT IN MARCH 2023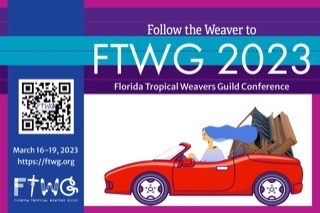 Florida Tropical Weavers Guild Annual conference will be live and in person  in March 2023!!
We will be at a new venue, the Wyndham Orlando Resort/conference Center in Celebration Florida.
Registration is open, check out the classes and schedule and come to join us!
I am honored to be teaching a rug hooking class at the conference.  All about hooking landscapes with mixed media!!  So many fabrics and fibers to explore during class, and some special techniques also.  I can't wait to be there in person!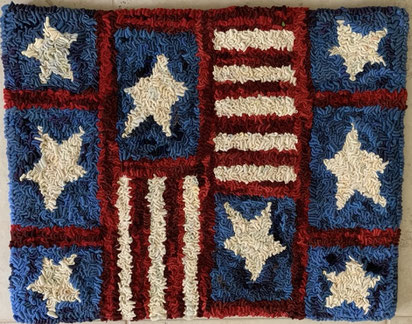 Americana and flags are popular all year round.  I won this pattern, by Debra Schrang, at a hook-in several years ago.  Using my own hand-dyed wool in  #10 cut strips on linen using a fat hartman hook, I got it done this week.  Pulling wide strips through the linen was hard on my hands even with the fat hook.  Plenty of hand stretches, and only hooking for short times helped.  
I made a covered cording to finish and sewed it on by hand.  Nice little rug, 24" x 18.5",  extremely soft and squishy!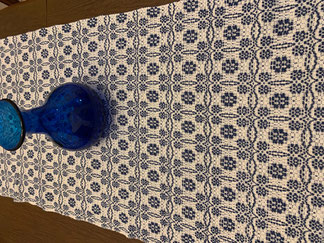 My first ever overshot on my Baby Wolf floor loom! 
I signed up for an online weaving class with Kelly Casanova weaving school.  8/2 natural cotton for the warp and tabby.   Navy 3/2 cotton for the pattern weft.  Slow but sure, checking and rechecking all the steps along the way.  Weaving was faster than warping the loom!  Unweaving is slower.  
It looks nice on the table with a Blenko hand-blown glass vase.  Finished size is 48" x 20".