Welcome
..........to Shady Hill Rug Hooking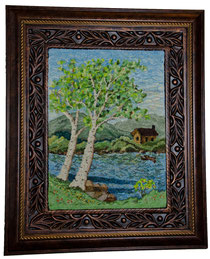 My website name describes where I live. On a hill, shaded by old oak trees, in a home with a beautiful porch where I can hook rugs.
The art of traditional rug hooking has been around for hundreds of years. Creating a hand hooked rug is still being done today as it was long ago, with the simple tool of a hook and strips of cloth.  Now it is considered an art form. Rug hooking has no limit for creativity and imagination.
I hope you enjoy looking at the hand-hooked rugs, hand-dyed wool, rug hooking patterns and appliqué patterns that are on the following pages.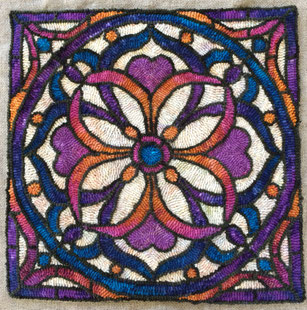 To Everyone who placed orders during the hurricane!  Thank you for your patience while we were cleaning up from Hurricane Irma!  We still have several trees to be removed (hoping tomorrow!!). We are extremely thankful that none hit the house.  The studio is reorganized, all neat and tidy for a few days anyway, 
I finished this stained glass design during the hurricane.  I used my trusty Beam N Read Light,  hang it  around your neck light when the power goes out and you can accomplish anything!  This pattern is sold by Honey Bee Hive Rug Hooking, designed by Jane Flynn.  I believe I will frame it.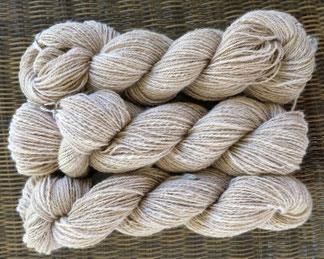 Spinning when the power is out is easy!  At least during the daylight hours. At night I was able to use a power block and a LED light from the studio. This is Alpaca fiber and I am going to use it as is.  I kind of like the soft color.  I am always told MORE TWIST!  So I did, and added more twist when plying.  It was such a twisty chaotic mess and not photo worthy, not happy at all.  However, the magic happened in the soaking.  Now I am delighted with it.  The fluffy yarn is wonderfully balanced.  Can't wait to get it on the loom!
Registration is now open for Spring Fiber Fling 2018!  You all know how much fun it was in March 2017, so click on the link to find out all the information and get yourself and a friend registered!  Plan now to finish a project or two for the exhibit or fashion show!  Our vendors will have some amazing supplies for purchase, all the way from Missouri, Georgia, Maine and Florida!  Demonstrations are being planned, and door prizes are being collected.  We had a lot to give away in 2017!  The food drive is sincerely appreciated by Interfaith Emergency Services in Ocala.  You will get a piece of wool in return for your donation! (limit 4 pieces of wool, but you can donate as much as you want)  We filled the pickup bed last time!
Spring Fiber Fling is open to all fiber fanatics - rug hooking, spinning, weaving, wool appliqué, knitting, crochet!