Welcome
..........to Shady Hill Rug Hooking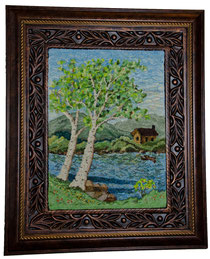 My website name describes where I live. On a hill, shaded by old oak trees, in a home with a beautiful porch where I can hook rugs.
The art of traditional rug hooking has been around for hundreds of years. Creating a hand hooked rug is still being done today as it was long ago, with the simple tool of a hook and strips of cloth.  Now it is considered an art form. Rug hooking has no limit for creativity and imagination.
I hope you enjoy looking at the hand-hooked rugs, hand-dyed wool, rug hooking patterns and appliqué patterns that are on the following pages.
The Fifth Annual Spring Fiber Fling is only three months away!  Be sure to register before the space is filled.
We have added a new mini-class on Friday afternoon for the rug hookers.  Carol Shewan from willowcreekrughooking.com will be joining us to teach a color workshop.  Untangling Colour!     Click on Fifth Annual Spring Fiber Fling on the tool bar above to find out more details and register.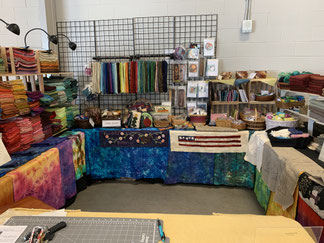 November 15th was the Strawberry Rug Hookers Annual Hook-in in Dover Florida!  Always an exciting day full of shopping, vending, door prizes, raffle tickets and most of all - friendship!
Here is a picture of my booth before everyone came through the doors.  
Put this event on your calendar for next year!