Welcome
..........to Shady Hill Rug Hooking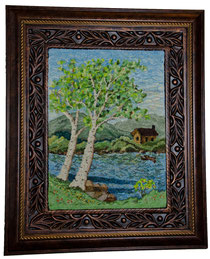 My website name describes where I live. On a hill, shaded by old oak trees, in a home with a beautiful porch where I can hook rugs.
The art of traditional rug hooking has been around for hundreds of years. Creating a hand hooked rug is still being done today as it was long ago, with the simple tool of a hook and strips of cloth.  Now it is considered an art form. Rug hooking has no limit for creativity and imagination.
I hope you enjoy looking at the hand-hooked rugs, hand-dyed wool, rug hooking patterns and appliqué patterns that are on the following pages.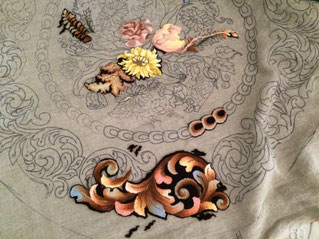 Gainesboro will be my summer project - too hot to dye, too hot to be outside.  So with the AC and a fan I will be hooking this large 60 inch round pattern.  I purchased the Pearl McGown pattern drawn on burlap and transferred it to linen. Not an easy task.   Using the "Scrolls are Easy" book by LaVerne Brescia I decided to dye my wool with the formulas in the book.  Dip dye, swatches, painting.  I began hooking this with Sally Ballinger in February this year.  I hope to post weekly updates as the summer goes by.  
Time for a Spring Fiber Fling POP QUIZ!  Watch for it  March 1st on my FaceBook page - Shady Hill Rug Hooking.  You must be a registered guest for the Spring Fiber Fling on March 11th to participate.  The first registered guest with the correct answer will win a small prize to be picked up at my booth during the event.  Answer as many questions as you would like, but you can only win one time. I will post one question each day starting March 1st.  Thanks and good luck. This will be easy.
1 Comments