Welcome
..........to Shady Hill Rug Hooking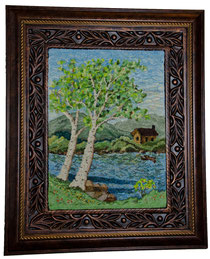 My website name describes where I live. On a hill, shaded by old oak trees, in a home with a beautiful porch where I can hook rugs.
The art of traditional rug hooking has been around for hundreds of years. Creating a hand hooked rug is still being done today as it was long ago, with the simple tool of a hook and strips of cloth.  Now it is considered an art form. Rug hooking has no limit for creativity and imagination.
I hope you enjoy looking at the hand-hooked rugs, hand-dyed wool, rug hooking patterns and appliqué patterns that are on the following pages.
A new supply arrived!  I will post a picture tomorrow!  Sari ribbon adds terrific texture and shimmer to a hooked rug.  Beautiful colors coming!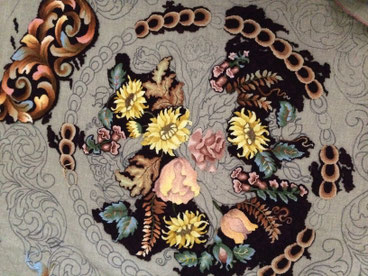 One of my all time favorite rug patterns!  I am making some progress and enjoying each flower and leaf.  I guess I need to tackle the roses and strap leaves next.  During the summer I need extra fans to keep cool under this extreme rug!