Welcome
..........to Shady Hill Rug Hooking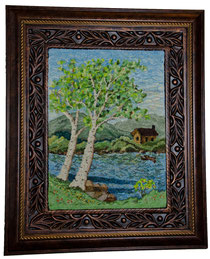 My website name describes where I live. On a hill, shaded by old oak trees, in a home with a beautiful porch where I can hook rugs.
The art of traditional rug hooking has been around for hundreds of years. Creating a hand hooked rug is still being done today as it was long ago, with the simple tool of a hook and strips of cloth.  Now it is considered an art form. Rug hooking has no limit for creativity and imagination.
I hope you enjoy looking at the hand-hooked rugs, hand-dyed wool, rug hooking patterns and appliqué patterns that are on the following pages.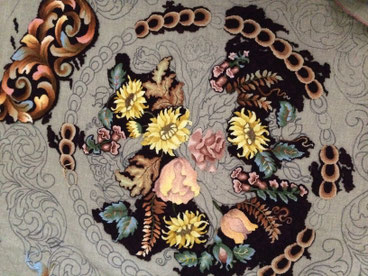 One of my all time favorite rug patterns!  I am making some progress and enjoying each flower and leaf.  I guess I need to tackle the roses and strap leaves next.  During the summer I need extra fans to keep cool under this extreme rug!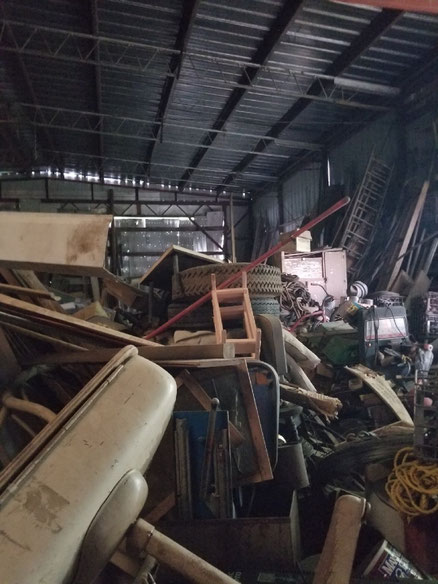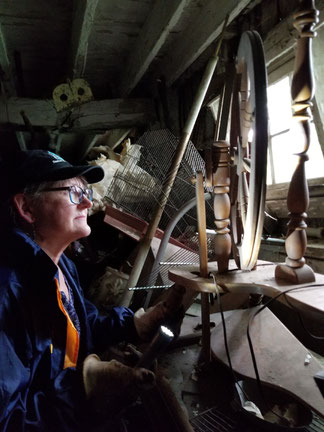 A surprise adventure is always fun, when he said I am sure there is a spinning wheel in that barn somewhere!  We put on our boots, found our gloves, made sure our flashlights worked, long sleeves and pants for sure.  The barn was loaded, stacked pile on pile of old stuff and things.  And dark.  Then, there it was, a spinning wheel, made into a lamp.  Kind of disappointed not a treasure to take home.  Some parts were missing, and warped wheel.  I left it there for the next person with a treasure map, who needs a lamp.