Welcome
..........to Shady Hill Rug Hooking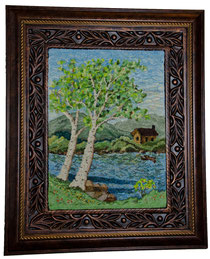 My website name describes where I live. On a hill, shaded by old oak trees, in a home with a beautiful porch where I can hook rugs.
The art of traditional rug hooking has been around for hundreds of years. Creating a hand hooked rug is still being done today as it was long ago, with the simple tool of a hook and strips of cloth.  Now it is considered an art form. Rug hooking has no limit for creativity and imagination.
I hope you enjoy looking at the hand-hooked rugs, hand-dyed wool, rug hooking patterns and appliqué patterns that are on the following pages.
Less than one month away!  We do have a few spaces available for the Fifth Annual Spring Fiber Fling in March.  You can pre register by clicking on the Fifth Annual Spring Fiber Fling on the tool bar at the top of the page.  Remember to check out the mini-classes on Friday afternoon.
Bring finished items for the fiber exhibit.
Bring a wearable fiber art for our fashion parade.
Bring a donation for the Humane Society of Marion County.
Bring a project to work on.
Shop with the terrific vendors!
Meet a new fiber artist and share ideas!
Enjoy the educational demonstrations!
Maybe win a fabulous door prize!
If you would like to come to only shop you may purchase a shopping pass at the door after 11 am.
Contact me if you have questions.    I can't wait!
This year at our new larger location for the Fifth Annual Spring Fiber Fling we will be collecting pet supplies for the Humane Society of Marion County.  When you bring a pet supply donation at the Spring Fiber Fling you will receive a chance to win a special door prize surprise!!!   Take a look at the wish list for the Humane Society at thehsmc.org/wish-list.    The adorable friendly pets will certainly appreciate your donation!