Welcome
..........to Shady Hill Rug Hooking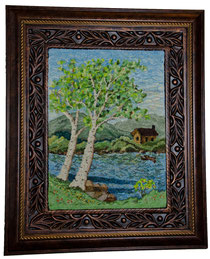 My website name describes where I live. On a hill, shaded by old oak trees, in a home with a beautiful porch where I can hook rugs.
The art of traditional rug hooking has been around for hundreds of years. Creating a hand hooked rug is still being done today as it was long ago, with the simple tool of a hook and strips of cloth.  Now it is considered an art form. Rug hooking has no limit for creativity and imagination.
I hope you enjoy looking at the hand-hooked rugs, hand-dyed wool, rug hooking patterns and appliqué patterns that are on the following pages.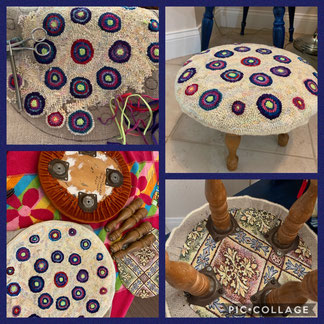 The noodle bags are overflowing like a cascading waterfall!  This little round footstool has been wanting a new cover, so it's time!  A few tips and techniques to help you.  When you want to use up noodles for a hit & miss project I find the finished piece easier to look at when you make a rule or two to follow.  My rules beyond using only noodles, were 1.  use lime green for the center of circles.  2. only use blue to red on the color wheel for the circles.  red, red violet, blue violet, blue. 3. use all lightest pastel values, any color.
Now I have a plan, ready to sort the leftover strips and begin.
I used a rummage sale footstool.  Kind of old but solid and sturdy.  The hardware was in good shape so I was able to reuse it.  The legs do need refinishing but it's way too hot to work in the garage, so will wait til winter.  When I finished hooking I put cording on top of the backing right next to the hooking and whipped with two strands of wool yarn.  Then measured how much backing I needed to fold to the back..  Remember to measure twice before you cut!  I left the old cover on so I did not have to add layers of padding.  The cording did cause a bit of waviness at the edge, so on a future round piece I will consider a row of chain stitch instead.  Staple the backing on, stretching from side to side.  Add the liner to cover the raw edge of backing and tack in place leave space for the leg braces.  Screw in the leg brace.  Using a screw through the layers of fabric caused a problem.  The screw snagged the liner and the linen backing pulling threads unevenly.    I had to use sharp pointy scissors and exacto knife to cut tiny holes to make space for the screw to not catch any threads.  Are you ready to tackle your footstool project?  Have fun! 
Happy Memorial Day everyone.
I have been quiet here since March and you might think I have not been creating anything.  Here are some pictures of a few things I have actually finished during the last three months.  A few new techniques to learn that took some time to figure out.
The cotton baby blanket was sport weight cotton woven on my 32" rigid heddle.  I learned double weave... two heddles, two pickup sticks, two layers to weave through so I  was able to weave a 40" wide fabric.  The cotton was super soft after washing and drying.  The new baby girl (niece) will like snuggling under it on cool summer evenings.
The pinwheel braid had me going in circles!  So many color changes to make the pattern spin!  The knitted crescent shawl using Blue Heron yarn.  Beach towels on the bed do work for blocking.  Not much of a knitter, but it works.  A bit of weaving using bits of fun fibers, from wool locks, to sari ribbon and velvet, novelty yarn.  I lined it with cotton fabric, a pocket is inside, and a magnetic snap to close.   Silk scarf dyeing with ice was interesting.  It was so difficult to wait overnight and not peek or stir the pot.  Water was muddy in the morning, but look what came out!  This will go with anything anywhere!
And rug hooking.  Finished the welcome mat with a braid border, always a nice finish.  The Multicolores design is bright and cheerful.  
I am still working on the huge Gainesboro rug.  More on that later.  The next two weeks are dedicated to that 5 year project.  
I simply can not wait until we can all get together in person for a show and tell marathon!