Welcome
..........to Shady Hill Rug Hooking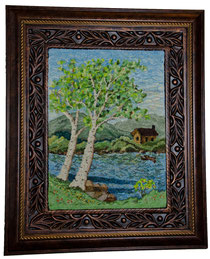 My website name describes where I live. On a hill, shaded by old oak trees, in a home with a beautiful porch where I can hook rugs.
The art of traditional rug hooking has been around for hundreds of years. Creating a hand hooked rug is still being done today as it was long ago, with the simple tool of a hook and strips of cloth.  Now it is considered an art form. Rug hooking has no limit for creativity and imagination.
I hope you enjoy looking at the hand-hooked rugs, hand-dyed wool, rug hooking patterns and appliqué patterns that are on the following pages.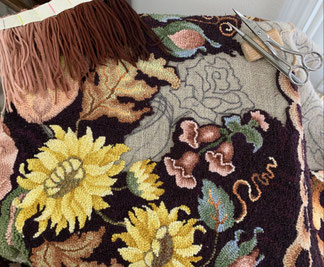 Happy New Year Everyone!
I am still working on my Gainesboro rug.  And am determined to get it done by June, 2022.  Summer and fall are too hot to have this large rug draping over my lap.  Now that the weather is cooler I can work on it more often.
The Strawberry Rug Hooker group from Lakeland Florida is again hosting their annual hookin!!  Always an exciting event to look forward to in November each year.  Friday, November 19th at the Hillsborough county fairgrounds in Dover FL.  Check out the information on their facebook page Strawberry Rug Hookers!!!
Another terrific event for everyone looking for hand-made items for gift giving this year!!  The Weavers of Orlando  2021 Holiday Fiber Arts Show and Sale!!! 
December 3rd, 4th and 5th of 20201 at the Donnelly Building in Donnelly Park, Mt. Dora Florida  (530 North Donnelly Street)
Hand-made one of a kind gifts and pieces of art! 
I look forward to seeing you all at both events!!