Welcome
..........to Shady Hill Rug Hooking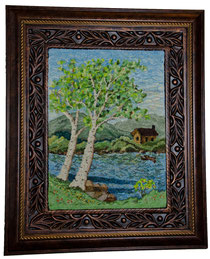 My website name describes where I live. On a hill, shaded by old oak trees, in a home with a beautiful porch where I can hook rugs.
The art of traditional rug hooking has been around for hundreds of years. Creating a hand hooked rug is still being done today as it was long ago, with the simple tool of a hook and strips of cloth.  Now it is considered an art form. Rug hooking has no limit for creativity and imagination.
I hope you enjoy looking at the hand-hooked rugs, hand-dyed wool, rug hooking patterns and appliqué patterns that are on the following pages.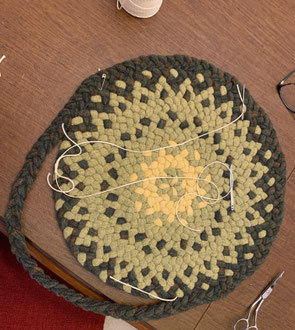 I started this a week ago as a gift for our daughter.  Polka dots and zigzags are the focus in this rug.  I am using darks and lights to have great contrast for the design to show up.  The pattern comes from Nancy Young, a well known braiding teacher in Maine.  This is her Killer Chair pad pattern.  I understand the "killer" now, as each row is individual, and therefore, butted.  9 rows here, 9 times to perfect the butting.  
This measure 18" in diameter now.  I would like it larger.  The decision to make is what color row next.  Yellow and light green?  all three?  I will braid some samples to help make up my mind.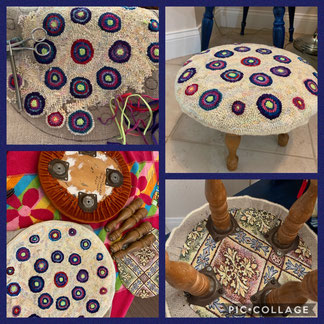 The noodle bags are overflowing like a cascading waterfall!  This little round footstool has been wanting a new cover, so it's time!  A few tips and techniques to help you.  When you want to use up noodles for a hit & miss project I find the finished piece easier to look at when you make a rule or two to follow.  My rules beyond using only noodles, were 1.  use lime green for the center of circles.  2. only use blue to red on the color wheel for the circles.  red, red violet, blue violet, blue. 3. use all lightest pastel values, any color.
Now I have a plan, ready to sort the leftover strips and begin.
I used a rummage sale footstool.  Kind of old but solid and sturdy.  The hardware was in good shape so I was able to reuse it.  The legs do need refinishing but it's way too hot to work in the garage, so will wait til winter.  When I finished hooking I put cording on top of the backing right next to the hooking and whipped with two strands of wool yarn.  Then measured how much backing I needed to fold to the back..  Remember to measure twice before you cut!  I left the old cover on so I did not have to add layers of padding.  The cording did cause a bit of waviness at the edge, so on a future round piece I will consider a row of chain stitch instead.  Staple the backing on, stretching from side to side.  Add the liner to cover the raw edge of backing and tack in place leave space for the leg braces.  Screw in the leg brace.  Using a screw through the layers of fabric caused a problem.  The screw snagged the liner and the linen backing pulling threads unevenly.    I had to use sharp pointy scissors and exacto knife to cut tiny holes to make space for the screw to not catch any threads.  Are you ready to tackle your footstool project?  Have fun!