Welcome
..........to Shady Hill Rug Hooking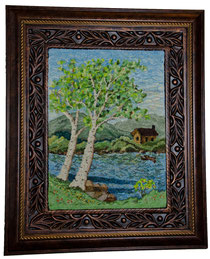 My website name describes where I live. On a hill, shaded by old oak trees, in a home with a beautiful porch where I can hook rugs.
The art of traditional rug hooking has been around for hundreds of years. Creating a hand hooked rug is still being done today as it was long ago, with the simple tool of a hook and strips of cloth.  Now it is considered an art form. Rug hooking has no limit for creativity and imagination.
I hope you enjoy looking at the hand-hooked rugs, hand-dyed wool, rug hooking patterns and appliqué patterns that are on the following pages.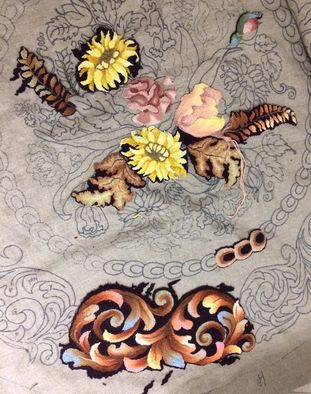 A little progress on Gainesboro this summer.  As I look at the photo I can see a couple places that need to be fixed.  A swirl that does not swirl enough, some shadows needing more depth.
A camera is a great tool to find the little things requiring a small and easy solution.  Try changing the setting to black and white to see dramatic lights and darks in your own rugs.  You will be able to  visualize any values that are too close and don't show up.
Now, on to the next scroll, and finish that rose in the middle!
Save the date!!  March 10th, 2018 for Spring Fiber Fling.  All fiber artists are invited.  Rug hookers, spinners, weavers, wool appliquérs, knitters and more.  We will be in the same location, the Wildwood Community Center in Wildwood Florida.  The Community Center is undergoing some renovations so we are excited to experience the improvements.  Several vendors are returning, and we will have a couple new ones.   We will have demonstrations again,  collect food for Interfaith Emergency Services in Ocala,  and the fiber exhibit will showcase exceptional work hand-made by our guests.  Again in 2018 we will have a fashion show of woven, knitted, felted, appliquéd , and hooked wearable art.  Don't forget the exciting door prizes!!!!!
Registration will open later in the summer, we have a lot of details to work out!!