Welcome
..........to Shady Hill Rug Hooking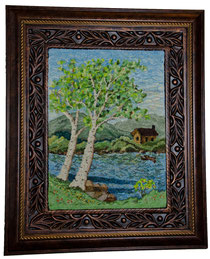 My website name describes where I live. On a hill, shaded by old oak trees, in a home with a beautiful porch where I can hook rugs.
The art of traditional rug hooking has been around for hundreds of years. Creating a hand hooked rug is still being done today as it was long ago, with the simple tool of a hook and strips of cloth.  Now it is considered an art form. Rug hooking has no limit for creativity and imagination.
I hope you enjoy looking at the hand-hooked rugs, hand-dyed wool, rug hooking patterns and appliqué patterns that are on the following pages.
Check out the gallery to see more of my work.  Loaded with pictures of my rug hooking, spinning yarn, weaving, and wool appliqué projects.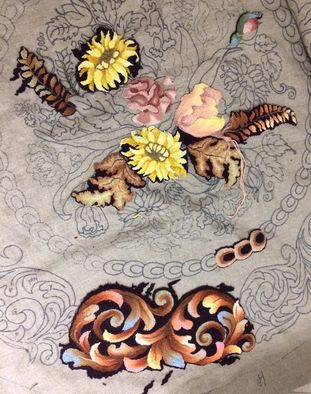 A little progress on Gainesboro this summer.  As I look at the photo I can see a couple places that need to be fixed.  A swirl that does not swirl enough, some shadows needing more depth.
A camera is a great tool to find the little things requiring a small and easy solution.  Try changing the setting to black and white to see dramatic lights and darks in your own rugs.  You will be able to  visualize any values that are too close and don't show up.
Now, on to the next scroll, and finish that rose in the middle!