Welcome
..........to Shady Hill Rug Hooking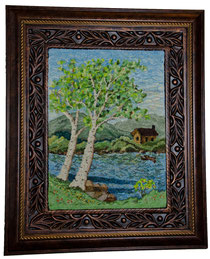 My website name describes where I live. On a hill, shaded by old oak trees, in a home with a beautiful porch where I can hook rugs.
The art of traditional rug hooking has been around for hundreds of years. Creating a hand hooked rug is still being done today as it was long ago, with the simple tool of a hook and strips of cloth.  Now it is considered an art form. Rug hooking has no limit for creativity and imagination.
I hope you enjoy looking at the hand-hooked rugs, hand-dyed wool, rug hooking patterns and appliqué patterns that are on the following pages.
Wow!  Registrations for the Fifth Annual Spring Fiber Fling are rolling in at high speed. It's a good thing we found a new larger location!  
The mini-classes on Friday afternoon still have a few openings so choose one and sign up soon.  Remember, only registered students are allowed in on Friday.
Saturday is the Spring Fiber Fling.  Finish up your UFO's and bring them to display in our fiber exhibit!