Welcome
..........to Shady Hill Rug Hooking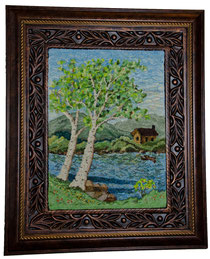 My website name describes where I live. On a hill, shaded by old oak trees, in a home with a beautiful porch where I can hook rugs.
The art of traditional rug hooking has been around for hundreds of years. Creating a hand hooked rug is still being done today as it was long ago, with the simple tool of a hook and strips of cloth.  Now it is considered an art form. Rug hooking has no limit for creativity and imagination.
I hope you enjoy looking at the hand-hooked rugs, hand-dyed wool, rug hooking patterns and appliqué patterns that are on the following pages.
Fifth Annual Spring Fiber Fling with be held at the:
                                            Klein Conference Center
College of Central Florida Ocala Campus
3001 SW College Rd, Ocala, FL 34474
SAVE THE DATE!  March 13 & March 14
More Details to come!   
March 9th is the Spring Fiber Fling in Wildwood Florida!     Registration is full!  
Remember doors open at 9:30 am.  Event finishes at 3:30 pm
Yes, we are having a fashion show, so bring your finished wearable fiber art, knitted socks?  Wear them.  Woven a shawl?  Bring it along!  Hooked a tote bag or poncho?  Let's show them off!
Yes we are having a spinning circle!  Bring your spinning wheels and join us!
Lunch is by TooJays Deli, always delicious.
Fiber exhibit will be set up to display finished items, from wool applique to art yarns, to hooked rugs and woven towels.  Bring your finished items to inspire everyone!
IF you would like to do some shopping, you may come AFTER 11 am and the fee is $7.00 at the door, for shopping and viewing the exhibit only.  And watch a demo of course.
And of course, door prizes!
Demonstrations are scheduled throughout the day, there is always something to learn!